Background
Besides being one of the most popular hookup sites, it is a platform for communication. The site encourages people to open up about their sexuality. As soon as you open the site, you can see various sections. These are:
British women (American, Australian, depending on your location);
Swingers;
Housewives;
Single women;

All these categories take you to the section with like-minded people. If you are a lonely housewife whose husband is stuck at work, you are welcome to find a single man who wants to keep you company for the night. It is a legit site for lonely hearts and bodies. It was designed by a well-known dating agency Together Networks. The company is famous for launching many great niche sites. Their aim is to satisfy every single interest of a single or not single dater. Together2Night website promotes international and interracial relationships. It accepts gay, lesbian, and straight users without exceptions. If you are eager to start dating quickly, it is the ultimate platform since there are no challenges with registration or verification. Besides, the site has more than a million active users. It is an impressive number. Most people come from the US, but all countries are represented and welcome to join. There are the website and the mobile version as well. The age categories on the site are diverse. You can easily find a twenty-year-old sugar babe as well as a cougar in her forty, both looking for the same thing. Males and females are represented on the site in approximately equal proportions. Note that there are many people of untraditional sexual orientation.
How does Together2Night Function?
It is an adult hookup site that provides services of various types. As the name of the site hints, people get together and spend some good time on the site and in real-time. To become a member, you need to signup. After that, the site takes you to the profile setup stage. It means that you need to tell about yourself and indicate the name. Later on, the profile you have created will be published, and people can react to it. The site does not force you to talk and does not block the account for not being active. It is possible to log in, search for candidates, window shop, and leave. The site encourages to make moves, though. It gives a set of features that help people start off. Even if someone is shy, there is a way to get over the fear of socializing. Since most people look for NSA relationship on the site, users are quite open about what they want.
The site does not work for free. It is a paid service that costs from $10 per week to $42 per month. Considering the functionality of the site, the price is not high. It is possible to jump from one subscription to another anytime. There is a helpful matching algorithm, but the main power is still in the hands of daters who search and contact each other. If you are not very active, you will still be contacted by people who are more self-confident. So, there is no chance that you will spend an evening on the site without a single conversation with a person looking for sex.
SignUp Guidelines for Together2Night

It is a website for men and girls who want sex. There is no need to fuss around the registration for too long. Get an email address and sign up without paying a dime. Note that your email should be legit. Some mailing services are free and not reliable. Get a separate email address for your account on Together2Night, and you will have no issues with the registration. Most popular servers work just fine, though. It is not recommended to use your working email address for such registrations since the link for verification might not come in time. If any issues arise, you can email the support of the site. In general, the procedure takes a minute or two. Prepare a photo to upload and make up a nickname. There is no requirement to write your real name and surname or provide documents for confirmation. To make it a safe casual dating community, the creators decided not to disclose any personal details.
Note that registration does not grant you membership. These are two separate notions. You need to be registered to see the profiles on the site and use a basic set of features. But to use them to the full extent, you need to be a premium member.
The site does not set you up with people forcefully and does not limit your search options. If you do not like what you see online, you can manually find a person to talk to. Contacting them is possible in a couple of ways. You can try sending Together2Night messages. These are texts similar to emails. This option can be found on the top panel of the site. Whenever you log in, you will see new messages in the inbox. The messages can be sent to you when you are online or offline. You can open and reply to them or just ignore them. Some messages are sent to you with real interest, and some are sent as spam. It is not a junk email in its traditional form. There is a feature that allows users to text many people with one message. It is a regular thing for daters who want to meet for sex as soon as possible and look for available people. You can disregard such messages if they bother you, but it is sometimes a nice way to flirt, talk and sext.
Another way of contacting people is by playing a game. This option is located on the top panel of the site as well. You need to open the section, and it will offer you photos. A set of pics will be presented to you one by one for the assessment. If you put like on someone's photo and they will like you back – you get a match! The game aims to speed up making a decision. It checks if you have that sympathy for a person at first sight. Together2Night chat is probably one of the most frequently used options for communication. Whenever you are online, you can use instant messenger to contact people.
Together2Night Profile Assessment

Most hookup sites force people to go through a boring process of filling in the fields on the profile. With this platform, this step is skipped, and the process of signing up is much better. The profile is concise and well-arranged. In the end, all you need is a photo, gender, and age of the person. These are the deciding factors for most daters.
Together2Night Usability
The site has a simple layout. You can see the top panel and a couple of sections on it:
Like gallery;
Search;
Messages;
Notifications;
My account.
The top panel contains all the vital features of the site. There is also a button for a quick upgrade of membership. It is a red label saying 'Upgrade'. It is not an ad but a quick access button. The bottom panel contains the sections:
Terms of Use;
Privacy Policies;
Safety.
The bottom panel is usually overlooked, although it contains all the crucial information. You can find the guidelines on registration, the safety rules of online communication, information about memberships, and learn about payment systems that the site accepts.
Together2Night Mobile Application

The site is not available in the form of an application that you can download in the app store. You can open the mobile version of the site from any device you own. For sure, you will not feel much difference, and it will not influence your dating experience greatly. All the features are convenient to use from the phone, tablet, or laptop. The chat window in the mobile version is adjusted even to smaller screens, and you can still have multiple conversations simultaneously.
Functionality
If you are looking for hookup sites that actually work for real results, you will be satisfied with the offer from this platform. It has lots of interesting features. For instance, you can try Like gallery! It is a section located on the top panel of the site. When you open it, there is a set of images of randomly selected users. You are offered to mate with them by liking their photos. All you see is a photo and no description. It is a fun way to spend time and meet people you would never meet or talk to in real life. Like gallery contains photos of all members of this casual dating community and connects you with them daily.
Together2Night Price List
Together2Night website does not provide many free services. It is a cheap platform, so at least a small donation is needed to use the service. All the features that let you interact with other users cost money. If you consider the perks of the membership plan, you will see that the price for them is reasonable. It is also swift in terms of processing the payment and granting your premium status. The process is instant. You top up your balance, click on the membership type you want, and get your upgrade right away.
Free Account
Although the registration procedure is free, it does not mean that your account is premium. You need to purchase a package that can last one day, a week, one month, or three months. Without paying, you can set up the profile, send about five messages daily and chat to a couple of people. Note that most profiles will be hidden from you. There will be search filters available, but only some users will come up in your search results.
Paid Account
With the paid account, you get all the benefits of the site. If your subscription expires, you can renew it. However, note that you can set the autorenewal and not worry about the expiration date of the subscription. Select a convenient plan and attach the card or e-wallet to your account. It is safe to connect any payment system to the site since the payments are handled by independent services. All the packages provide the same features but for a different period. If you are new and want to try it out, select a one-day membership for only $1. It lasts 24 hours, and you are free to open any section of the site and use all the messaging options. If you want to take more than a day, start with a one-week subscription. It costs $10. One month on Together2Night costs $41, and three months cost $70 in total. The payment for such a package is withdrawn in one payment. So, if you want to buy a three months long subscription, you need to pay $70 in one payment.
Safety Protocols at Together2Night

The site is protected by a firewall, so the platform is safe to use. You are not at risk of getting your account stolen. However, there is a risk of meeting someone with bad intentions on the site who wants to blackmail you or get some money off you. Various scammers come to online platforms to use vulnerable users. If you are new to communication online, check out the 'Safe dating' section on the bottom panel of the site.
Is there any scamming activity at the Together2Night website?
The site has not been involved in any cyber scandals. It does not collect any important information, so you do not take any risks when you register.
Is Together2Night a reliable site?
Together2Night site is a reputable and reliable platform. It protects your information, allows you to feel free when texting, talking, and even sharing explicit content. Feel free to contact the support if you have any doubts about the services that the site provides.
Help Center
The support center does not work round-the-clock. However, they accept all the complaints and questions via email. The phone line is available from nine to five according to the USA time. If you want an immediate answer, you can try to look it up in the section 'Terms of use'. Most questions that users have are already answered in there. If you have noticed any suspicious profiles or want to ask about privacy, the support team will give you all the answers. In case of a billing issue, there is a payment system specialist as well.
Together2Night and Commpetitors
AshleyMadison is one of the platforms that provide similar services as Together2Night. It is a site for married people and singles who want to chat with them. Though, the site differs in price as it belongs to above averagely priced ones.
OneNightFriend is a platform that belongs to Together Networks and works in a similar direction as Together2Night. The site has fewer users but similar communication features.
Tinder is a pioneer app. Its drawback is a lack of a website. It is heavily dependant on location and allows less movement for users. Tinder matches people, and there is no search option.
Q&A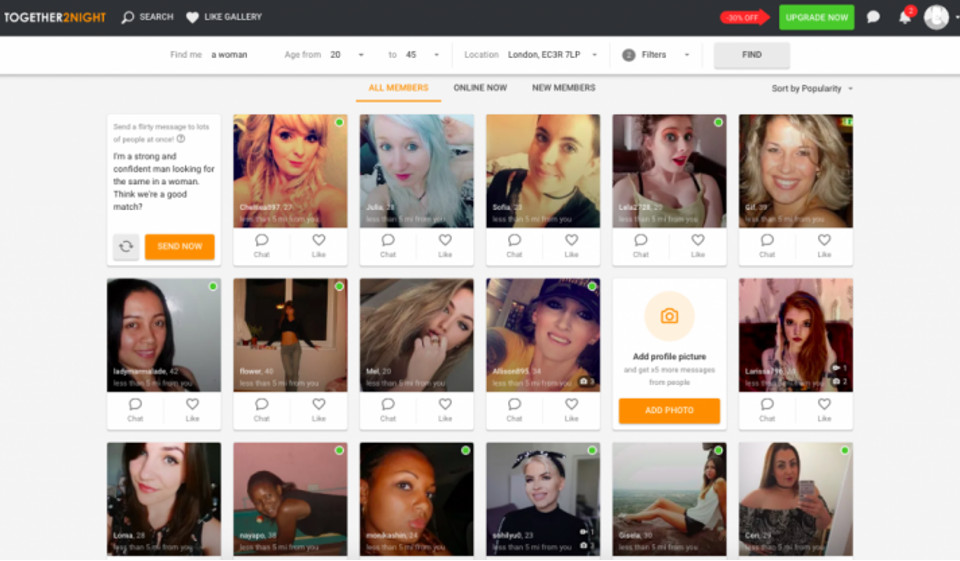 For what purposes can I use Together2Night?
If you want to be a part of a safe group of daters and have fun, Together2Night is the right place to go. It is an affordable way of meeting elite singles and not only. There is a chance to meet someone for a swinging event, orgy, a regular date, or any other type of adult dating.
Can Together2Night be a good site for a hookup?
Together2Night app is a real deal for people who want to have instant connections. It has multiple features that help to contact thousands of users. The site is popular among people who have different interests. You can find housewives, businessmen, teachers, doctors, and strippers on the site. It has positive feedback from the real users who have had the site as their wingman for ages.
Is there a boost for matches I receive on Together2Night?
Together2Night review of features shows that the site can offer a lot if you want to get more matches. The main thing is to have a good profile, membership plan, and stay online. If you are not using the site very often, people will notice your offline status. Your profile gets the boost every time you update it, so be generous with the new photos.
How does interaction on Together2Night work?
It works with the help of a chat, messages, likes, winks, and spam messages. Note that you need to be a paid member to experience all the services in unlimited amounts. If you have no free messages left per day, communication with the user will not be possible. Hence, sign up for a package as soon as you register not to miss your chances to get laid.
What does it take to terminate the Together2Night account?
It is a procedure that can be conducted without any help. Your account settings have the option to delete your profile. If you terminate it for good, it means that you cannot reinstate it later. If you want to use the site again, you will need to register. Another option to use is deactivation. It means that your account will be disabled for as long as you want and can be refreshed when you will back.

18008582113
New Jersey, the United States
Summary
Together2Night is a website created in the USA initially for the English-speaking audience only. Although the site is in English, you can see many international community representatives. Since the feature set is simple to use, there is no need to get too deep into instructions. The service has a website and a mobile version. Thanks to that, people of various age categories use it. There are people who are in their 20s as well as 60s. It provides equal opportunities for all people regardless of their background. This is a service for casual sex that should be accessible to people everywhere and anytime.